LOCK REPAIRS AND REPLACEMENTS BY ARMORED LOCK & SECURITY LLC
Your personal security is something you should never take for granted. Our highly skilled and professional team of locksmiths are equipped with only the best tools and high-quality products to provide a wide range of lock services. Armored Lock & Security LLC is prepared with modern equipment to repair or replace any lock regardless of the grade and security level. Contact us today at (317) 455-9390 for more information on our local locksmith services throughout Central Indiana.


Keep Your Home Secure with a Lock Repair
In the event of a break-in, our certified technicians can make suggestions and give advice on how to further secure your property.
Break-ins cause damage to your locks and make you feel unsafe in your own home or business. Everyone deserves peace of mind and security when it comes to the prevention of such events. When your lock is compromised, it is crucial that it be repaired immediately.
SIGNS YOU NEED A LOCK REPLACEMENT
Knowing when it's time for a lock replacement is crucial for maintaining the security of your property. Look out for signs such as a worn-out or rusty lock, difficulty in turning the key, or if the lock is no longer functioning as smoothly as it used to. If you've experienced a break-in or lost your keys, it's also recommended to replace your locks to ensure there are no vulnerabilities.
By acting promptly when these signs arise, you can proactively protect your home or business. Trust in the expertise of a professional locksmith to assess the condition of your locks and provide the necessary replacements for enhanced security.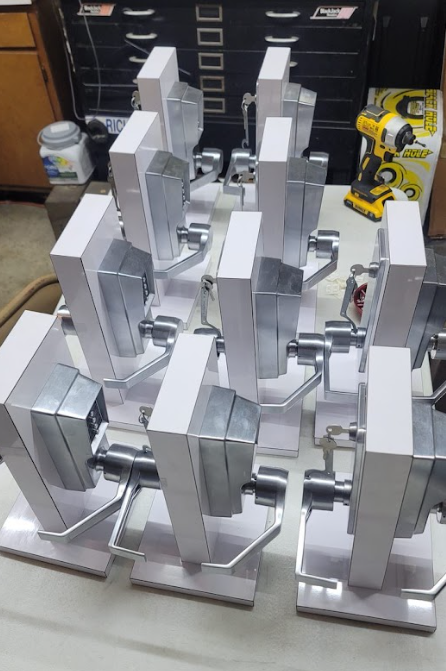 There Is No Lock We Can't Fix
From simple locks to advanced locking mechanisms, we do it all. Our local locksmiths are equipped with modern tools to ensure efficient repairs. Our knowledge and skill in the field will leave no damage to your door or lock.
Our highly skilled professionals have the necessary training to ensure that your lock repair or replacement needs are met. With Armored Lock & Security LLC, you get expert results with the courteous care that you deserve.
Don't Risk Your Safety. Ensure Your Locks Are Secure!
Ensure the safety of your home or business by making sure that all your locks and doors are secure and functioning properly. You can rely on us for fast and reliable lock replacements and repairs. We can assist with any type of lock, including:
Deadbolts
Cylinder locks
Mortise locks
Keyless entry systems
Key-operated security bolts
Doorknob locks
Emergency On-Call Locksmith
Armored Lock & Security LLC provides emergency lock services. We understand how upsetting it is when your lock isn't working properly. Our mobile, 24-hour locksmiths come prepared with the necessary tools and equipment to effectively access and fix your lock so you can get back to feeling secure. Don't stress and call the professionals right away. We'll be there before you know it.
Armored Lock & Security LLC: Locksmith Experts
You use your locks almost every day, so when there is a small jam or you find that you need to jimmy the key, you need to call the experts at Armored Lock & Security LLC. Our locksmiths have years of experience with a wide range of locks and can repair any lock or security measure for your property. We can also advise you on the best lock solution, depending on the level of security required and your budget.

Can't say thank you enough!
During our heat wave my neighbor locked herself out of her house. Luckily we are both seniors and I was home so she was safe. Trying to find and least expensive ...Read More
- Dottie Kirby

They were truly my lifesavers!
My safe uses a two key or digital system to unlock my safe. I'd accidentally locked one of the keys in the Safe & hadn't set up my digital code. ...Read More
- Elaine Mordoh

Would recommend to anyone!
Armored Lock has to be one of the best, most punctuation, and friendliest companies in Indy. Very knowledgeable and fairly priced. Would recommend to anyone!
- Michael Simpson
Contact Us Now for Fast and Reliable Lock Repair Services
When it comes to the safety and security of your property, our lock repair and replacement services are effective and preventative. We also have experience repairing locks that do not require a key but use a code in order to gain access. We can even provide keyless deadbolt lock repairs. Whether you have a standard lock or a complex mechanism, we can handle it all. Guaranteed.
Call (317) 455-9390 now.