Mobile Locksmith Services From Armored Lock & Security LLC
Armored Lock & Security LLC is recognized as a long-standing professional locksmith company. Our dedicated and certified locksmiths handle all types of locks and can solve any of your residential or commercial lock issue. Get in touch with us today for our mobile locksmith services at (317) 455-9390.


Armored Lock & Security LLC Is Your Emergency Locksmith
Locked your keys in your office? Locked out of your home? Is your lock broken? No need to worry, our mobile technicians will provide you with a quick fix. Our mobile team services the local surrounding area so that no matter where you are, we won't leave you stranded.
Our team has extensive experience in providing emergency locksmith solutions based on your needs. Help is just a phone call away. Our mobile locksmiths can get you out of any situation promptly.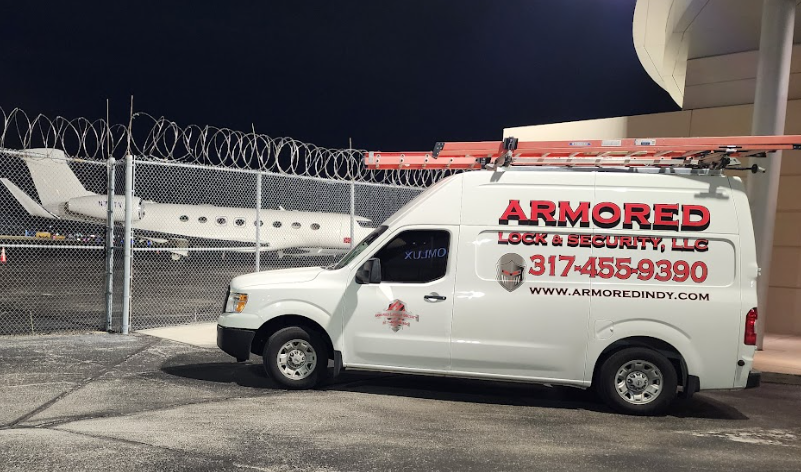 Residential Locksmith Services
Home security is essential for peace of mind. When your locks are damaged or compromised, your sense of security decreases. In these types of situations, it's important to rely on a certified locksmith to ensure that your home, family, and precious valuables are safe again.
Our technicians are here to help you. Give us a call and our mobile technicians will come to meet you right at your doorstep. Thanks to our fully equipped vans, our technicians can service any type of locking system, traditional or modern.
Some of our home services include:
Doorbell cam
Lock repair
Lockouts
Rekey and master key systems
New lock installations
And more
Commercial Locksmith Services
Business security is not to be taken lightly. If you find that your keys may have been compromised, the best solution is to contact our skilled experts to solve your security problems.
Our technicians can change, rekey, and install high-security locks for all types of commercial buildings. Depending on the size and security needs of your business, we can find the right solution that fits within your budget. We take care of all locks on your property, including emergency exits, keypad locks, and locks for heavy doors.
Our commercial services include:
Lockouts
Master key systems
Access control systems
CCTV
And more

Can't say thank you enough!
During our heat wave my neighbor locked herself out of her house. Luckily we are both seniors and I was home so she was safe. Trying to find and least expensive ...Read More
- Dottie Kirby

They were truly my lifesavers!
My safe uses a two key or digital system to unlock my safe. I'd accidentally locked one of the keys in the Safe & hadn't set up my digital code. ...Read More
- Elaine Mordoh

Would recommend to anyone!
Armored Lock has to be one of the best, most punctuation, and friendliest companies in Indy. Very knowledgeable and fairly priced. Would recommend to anyone!
- Michael Simpson
Reliable Local Locksmiths
It's never a convenient time to be locked out of your home or office. Contact Armored Lock & Security LLC and our mobile team will be over at our earliest convenience.
Take the stress and worry out of any lock issue with our reliable and trustworthy team of locksmiths. So, what are you waiting for? Contact us and we'll be happy to provide a thorough estimate or any additional information you may need.
We look forward to hearing from you. Call us at (317) 455-9390 now.